Mobile Gaming in 2020 – A Year in Review
24 January 2021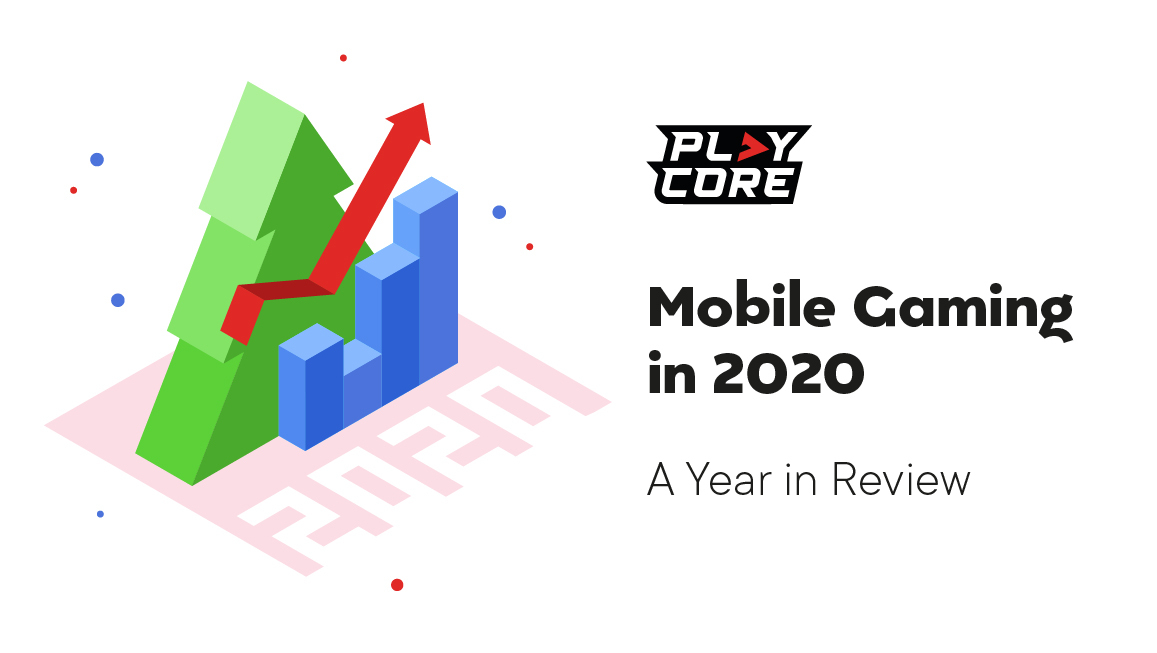 Mobile Gaming in 2020 – A Year in Review
If you have a smartphone, chances are that you have at least one mobile game downloaded to it. Most smartphone users have had a mobile game or two on their phone in their lifetime. Many of us remember mobile gaming's greatest hits like Temple Run, Angry Birds, Candy Crush, and even newer ones like Pokemon GO. While some of the hits experienced momentary hype, some mobile games have stayed relevant and popular to this day. Individual mobile games may have fleeting popularity, but one thing is for sure — mobile gaming is here to stay.
With that said, that doesn't mean that the mobile gaming industry is immune to the changes of the world. The industry looks vastly different from how it did when it first started, as technology advances and consumer interest change. With the rapid rate of technological advancement and how quickly consumer interest can change, each year brings about new trends. We're going to take a look at some of the trends of 2020, some of the statistics, and we're going to discuss the future of mobile gaming. Strap in for the ride!
Trends of 2020 
We can all agree that 2020 has been a big year in a lot of different ways. Mobile games have been trending more popular for years now, but with most of the world staying home for some portion of 2020, you can expect to see some new mobile gaming trends popping up. 
You want to play a game, but you don't want to download the app, or perhaps your phone isn't fast enough to process the game. No worries, cloud gaming will allow you to pay a fee and access the game straight from your mobile device, using only the power of the internet. Cloud gaming is at its start and with advancements in 5G technology, it's bringing PC and console games straight to your mobile phone, without the need to use up precious memory space with a large MB app. Just this year, Xbox brought over 100 games to mobile through their cloud gaming technology. We can only expect to see more of this in 2021.
We've all heard of Pokemon GO, the augmented reality mobile game took the streets by storm when it was released in 2016 and is still one of the most popular mobile games to date having been downloaded over a billion times. It even saw it's highest revenue ever in 2020 despite the pandemic. Again, with 5G advancements, faster internet speeds are possible, making AR the new thing. The ability to immerse the user in the game is what sets AR apart from other mobile games. Like cloud gaming, AR is just starting to find its legs, and we expect incredible growth in the realm of augmented reality mobile games in the future.
Blockchain-based games have been around for a while now; many people who were a part of the crypto world a few years back will remember the CryptoKitties craze of 2017. While CryptoKitties was one of the pioneers, 2020 saw more blockchain games entering the market and experts predicted it could become an even more lucrative industry. While blockchain games still are not mainstream, they're trending towards it. And with Bitcoin's recent rise and subsequent fame in the news, blockchain looks like it's here to stay and we expect no less of blockchain games. 
Games have, historically, been restricted to one platform — computer, mobile, or console. But thanks to technological advancements, many games are starting to offer the ability to play on multiple platforms — including mobile. Games like Fortnite can be played on PC, Xbox One, PS4, androids, and even more. People don't want to be limited to playing their favorite game on only one platform, and in 2020 we saw more games being offered on more than one. 
What's better than playing a mobile game? Playing a mobile game with friends, of course! Whether you play with your own friends, or people from around the world, or whether you play to compete or play to cooperate, a lot of fun can be had from playing multiplayer games and with a global pandemic pushing everyone inside, one of the best ways to connect with other people in a fun way was right in your hands. Games like Among Us took the world by storm, and Mario Kart is always a fan favorite. Games like Pokemon GO incorporate AR with multiplayer to include a wider range. Multiplayer games have been around for years, but now they've gone mobile. 
In our already busy lives, sometimes we just look for some respite in a simple, easy-to-play game. There's no need to think too hard, no complicated UI, just an incredibly engaging game. 2020 was no exception and hyper-casual games might be considered the biggest trend of the year. Hyper-casual mobile games consistently top app download charts, and the genre is not likely to go away any time soon. Ad revenue for these games is much too high and the games are much too addicting for users. 2020 saw hyper-casual games anchor itself as a staple mobile game genre and it's likely to stay that way for some time. 
Many of this year's biggest trends were a result of emerging or advancing technology, which is exciting because it signals that they will grow and evolve. Who knows what these technologies will look like and provide in the coming years? While the future is uncertain, one thing is not: technology will only keep advancing and we may see these trends become even more popular in 2021, or we might see them pivot into something new entirely. We'll just have to wait and see. 
But we can't just define the year by it's most popular trends, we can also review the year in numbers, so let's take a look at some of the most informative and interesting statistics of the year. 
The Year in Statistics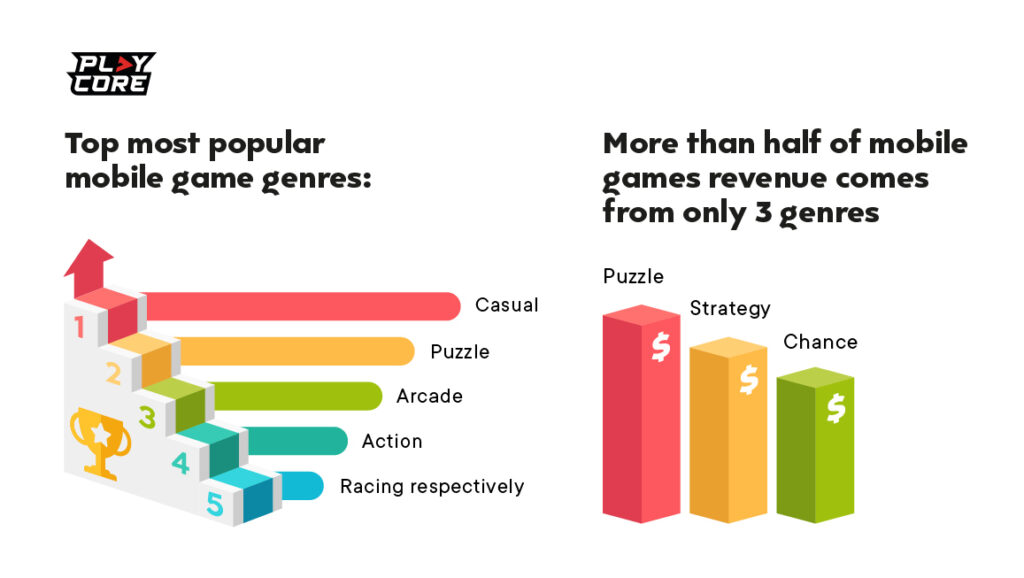 Numbers don't lie, and they always tell a story. Without further ado, let's examine 2020 in statistics. 
In terms of global gaming revenue, mobile games accounted for 51%, console games for 25%, PC games for 24%. This means that mobile games not only bring in the most revenue, they also have control of over half of the market, and are only expected to take more from there. 
Mobile game market revenue was an estimated $63.6 billion dollars, which is higher than any other year. Experts project that it will only grow and even reach over $100 billion by 2023, which is a mind-blowing number.
The world market for mobile games is massive as there are more than 2.4 billion global mobile gamers, with 213 million of them being in the US. But despite the US being in the news constantly, it's not actually the biggest mobile gaming market.
Currently, that moniker belongs to Asia, as it is currently the biggest gaming market with more than $41 billion in revenue. This is hardly a surprise when one looks at the vast area of land the Asian market covers as well as the immense number of people who live on that land. China has the largest population of any country period, which is why this statistic is more than expected. 
In most countries, mobile phones are the most popular device to use to play games. Mobile gaming revenue holds the biggest market share, so it stands to reason that mobile phones would be the most popular platform to play games on. What makes this statistic even more interesting is that across countries this seems to be the truth. In some countries the popularity is more evenly spread across different devices, but mobile phones still hold some small lead. 
Candy Crush came onto the market back in 2012 and it has stayed wildly popular since then and this past year $473 million was spent in Candy Crush. It still remains one of the top grossing iPhone mobile games, as we can see by the statistic. 
The market share of mobile games of global revenues is an estimated 57%, and it's projected to rise two more percentage points to 59% in 2021. In terms of market share of global revenue, mobile gaming is taking over. Once cloud gaming, augmented reality, and even blockchain gaming become more mobile friendly as technology advances, who's to say that mobile gaming won't take an even bigger share of the market? Time spent on mobile devices increases every year, and it's logical that time spent playing mobile games will also increase every year. 
The top 5 most popular mobile game genres are Casual, Puzzle, Arcade, Action, and Racing respectively. Casual, Puzzle, and Arcade are all very close in popularity, then there is a slight drop to Action and Racing. As we stated in the trends section, hyper-casual games truly established themselves as their own genre this year, so it's likely we'll see them included on this list in the years to come. 
More than half of mobile games revenue comes from only 3 genres: Puzzle, Strategy, and Chance. If you think about it, it makes sense that these three categories net the most revenue — we've all been stuck trying to figure out puzzles before, many people are more than willing to spend a few dollars on hints. Chance as a genre would include any kind of gambling games, which innately require money. Strategy games are also the kind that many would pay for hints. 
The hyper-casual game market is worth more than $2 billion. That's quite a large piece of the pie for the newly-minted genre. But because these games are easy to play and very engaging, they're easily addictive and those who play hyper-casual games often are 10 times more likely to download more games than other game players. 
33% of all apps downloaded are mobile games. That amounts to almost ⅓ of the share of downloaded apps. As you can see, consumers love mobile games. 
Among Us was the most downloaded mobile game of 2020. This online multiplayer game took the world by storm, flooding social media and taking itself all the way to the top of the most downloaded list with 264 million downloads globally.
Those are just some of the statistics from 2020 that paint a clear picture for mobile games: they are here to stay, and here to grow. We can only expect to see bigger numbers in 2021, especially as the number of mobile smartphone users grow. 
What Can We Expect in 2021?
While we can't accurately predict what will happen in the future, we can very well take our knowledge of the current state of affairs and make educated guesses. 
Cloud gaming and mobile streaming will increase mobile gaming
With the enhanced ability to stream games directly to your phone, it's likely that more people will start utilizing this option. Microsoft has their xCloud, which allows users to stream Xbox games to their phone. We'll probably see other companies start to follow suit. It's a huge market with untapped potential. Imagine being able to play your favorite PC or console game on-the-go? Plus, what one big company does, many others will follow. Microsoft threw down the gauntlet with their cloud gaming platform, and other big gaming companies are likely to follow suit. Expect to see more cloud gaming platforms pop up and more ways to stream games directly to your phone. 
AR games will increase in popularity
In the last few years several popular augmented reality games have been released like Harry Potter: Wizards Unite and Minecraft Earth. In 2021, we'll probably see the release of even more AR games and it's likely that mobile games that we know and love will release a version with AR. It's projected that by 2022, the value of the AR market is going to surpass $170 billion, and both Google and Apple have AR platforms. Augmented reality is the new 'thing', and we can see that with how much is being invested into the market and the support it receives from big tech. 
Multiplayer games

will become more popular
Among Us, a multiplayer game, was the most downloaded mobile game of 2020. Online multiplayer games like Fortnite have been made available for mobile in addition to their original PC version. Many people are stuck inside, unable to see their friends in person because of the pandemic, which isn't likely to end soon. In 2021 we'll probably see multiplayer games increase in popularity as a way to stay connected with friends, and we'll probably see it combined with other trends like cloud gaming and AR. 
The Emergence of New App Stores
Monetizing your mobile game is the goal, and it's not always easy. But did you know that both Apple and Google charge a 30% commission fee? That's a hefty price to put on a monetized mobile game. Popular multiplayer game Fortnite was taken off both the App Store and the Google Play store and made available for download on it's own platform, which charges only a 12% commission. While it's still more convenient to make your mobile game available for download on the App and Google Play Stores, we're likely to see more platforms emerge in the next year and after and we'll probably see games migrate to these new app stores. 
2020 was a big year, but it's only just the start. 2020 saw the solidification of hyper-casual games as a genre, cloud gaming and cross-platform gaming started emerging, and mobile gaming in general saw an increase. 2021 should bring a continuation of many of these trends, and should see an increase in mobile gaming again. 
Technology is advancing at a rapid pace and the next few years are likely to bring about new technology as well as new uses for current technology. In recent years we've gotten new things such as AR and blockchain games, and we'll probably get to see even more new high tech emerge to advance the gaming world. As streaming to mobile phones gets faster there could even be a boom of mobile gaming as more people use their phones to play than other platforms. Keep your mobile phones updated and ready for the next few years as new games emerge, new ways to engage and play with friends, and new technologies come into existence to help move mobile gaming forward.